Data: 15/12/2017 - 16/12/2017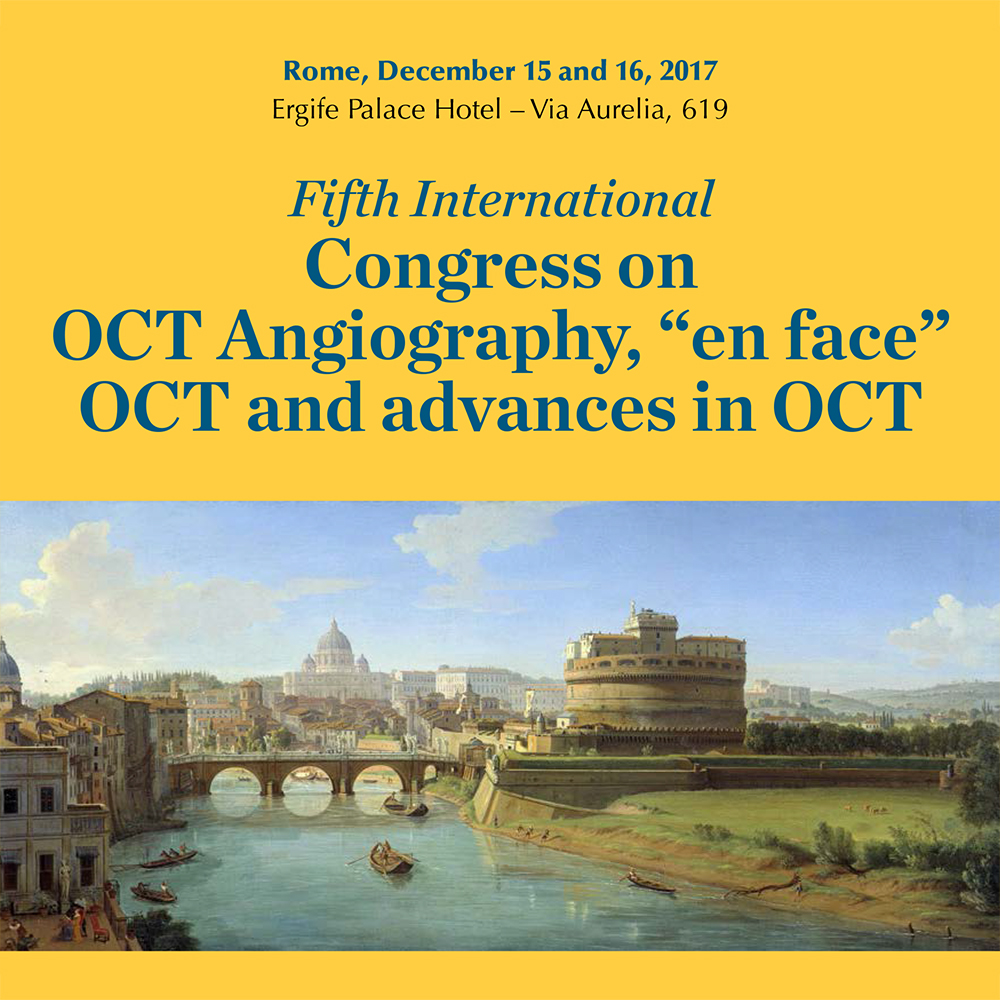 The "Fifth International Congress on OCT Angiography,"En Face" and advances in OCT" will be held December 15 and 16, 2017, in the beautiful historical city of Rome (Italy).
Organizers
Bruno Lumbroso, David Huang, Gabriel Coscas, Joseph Carroll, Yves Cohen, Wolfgang Drexler, K. Bailey Freund, Yali Jia, Quan Dong Nuyen, Richard Rosen, Philip J. Rosenfeld, Srinivas Sadda, David Sarraf, Ursula Schmidt-Erfurth, Eric Souied, Richard Spaide, Giovanni Staurenghi, Nadia Waheed
President of Honor
James Fujimoto
Coordinators
Amani Fawzi, Brandon Lujan, Martine Mauget Faysse, Brandon Lujan, Giuseppe Querques, Andre Romano
Planning Committee
Bruno Lumbroso, David Huang, Philip J. Rosenfeld, Eric Souied, Richard Spaide, Nadia Waheed
Italian committee
Francesco Bandello, Leonardo Mastropasqua, Stanislao Rizzo
Guest of Honor: Lawrence Yannuzzi 
Keynote speaker: Eric Swanson
It is the world's most important meeting on OCT and OCT Angiography. It gathers international active primary players in imaging, both in clinical and basic sciences  fields.
The past edition exceeded all expectations:
1450 delegates from 45 different countries
188 speakers (best specialists in the world, top clinicians and scientists) and 220 presentations.
The "Fifth International Congress on OCT Angiography,"En Face" and advances in OCT" will be a dynamic educational and professional forum where attendees will learn about the latest OCT and OCTA innovations and engage in dialogue, in a friendly atmosphere, with the world's most prominent leaders in imaging (information: www.apmeetings.com).
All
Residents
,
Orthoptists
,
Technicians
and
Students
must mail to
anna.porro@apmeetings.com
or fax to + 39 031 4890516 an official letter of verification from their hospital to prove they are in training and their professional qualification. If they cannot provide this letter they will be charged the full registration fee.
The date of your remittance will be decisive for the amount of the Registration Fee due.
All fees are quoted in Euro. Current Italian VAT is included in the rates and will be automatically updated in the event that it will be modified.
The registration fee includes: Admission to all scientific sessions, Access to Exhibition Area, Conference bag and name badge. Lunches are not included. Hotel Ergife will offer special price lunch for the participants of the Congress payable at the reception of the hotel from 8.00 a.m. to 11.00 a.m. the days of the conference.